A bath worthy of a Sybarite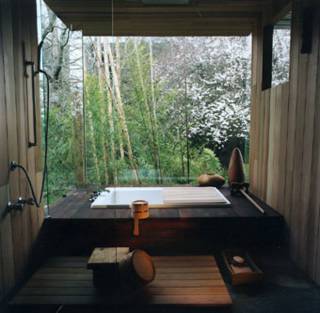 My dream bath.
When I build my house, I will have a separate bath house. It will be a a place apart from the rest of reality, that opens up to nature, and yet is private. There is something about the japanese bathing ritual that is very relaxing. Shower to rinse off. Enter the tub and soak for a few minutes. Return to the shower area and sit upon the little stool. Soap up and scrub down. Scoop warm water from the tub with the bucket and pour it over your head, rising off. Re-enter the pool and soak for as long as desired, until you are limp as an udon noodle, if you wish. Leave the pool, towel off, put on a yukata, and take tea in the garden, your body radiating heat.
This ritual is simple and beautiful. It is elegant and calming to the soul. It is ultimately a most sensual experience.
Labels: dreams, nature, sensuality